December 11, 2018
TOYBRICK RK3399PRO BOARD IS PRE-ORDER NOW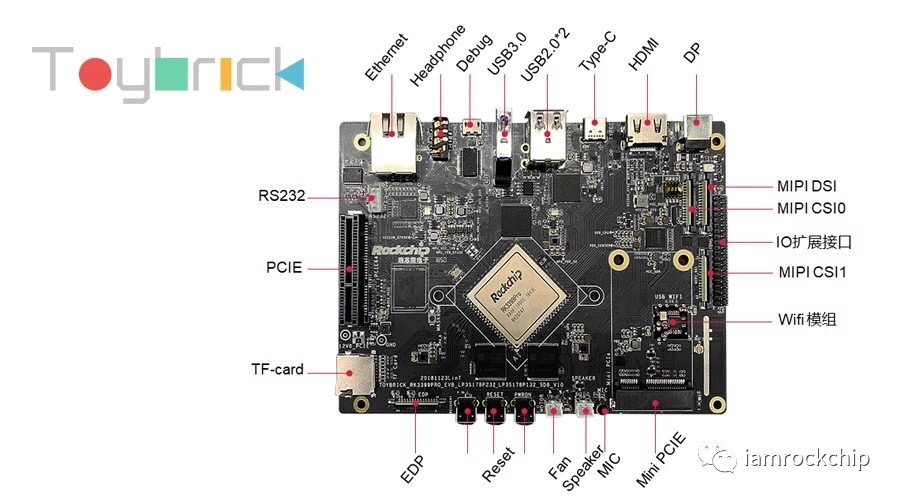 Rockchip now introduces the new Toybrick series development board starting with TB-RK3399Pro. TB-RK3399Pro and is expected to be shipped in mid of Jan. 2019, in limited numbers.
The TB-RK3399Pro development board is equipped with the super-performance AI processor RK3399Pro, which has superior general-purpose computing performance. It equips ARM big.LITTLE architecture, dual-core Cortex-A72 + quad-core Cortex-A53, with technical leadership in overall performance and power consumption; quad-core ARM high-end GPU Mali-T860, integrates multiple bandwidth compression technology, providing overall excellent performance. Its on-chip NPU (Neural Network Processor) offers up to 3.0TOPs computing power.
The TB-RK3399Pro development board has rich external interfaces, including 4 lanes PCIE and Mini PCIE, dual high-speed USB3.0 port Type-C + USB3.0 Type-A, dual MIPI CSI and dual ISP with pixel processing capability up to 1300W pixels, and HDMI2.1, DP1.2, MIPI-DSI and EDP; it also supports 8-channel digital microphone array input.
On the software side, TB-RK3399Pro is pre-installed Android and Linux system, support dual system boot and one-button OS switching. integrated rich AI application development components, providing friendly and concise application programming interface, seamless docking NPU to achieve AI computing hardware acceleration, support Various model inferences such as TesorFlow/TensorFlow lite/Caffe.
Currently TB-RK3399Pro is only available from Rockchip officially in Fuzhou, China. Vamrs can help to order for overseas users. If you are interested, you can apply the following form to submit. We will let you know when it's available.
Update 20th, Jan 2019:
Now you can pre-order tb-rk3399pro from Vamrs Store:
https://store.vamrs.com/collections/frontpage/products/tb-rk3399pro-rockchip-dev-board