October 21, 2020
In the Rockchip 2020 Processor Roadmap Update we had some basic info for RK3566 SoC and we know it's a mid-range SoC targeting at AIoT applications with quad A55 cores, G52 GPU and supports dual display. We also regarded RK3566 as an upgrade version of the classic RK3288 with 64bits cpu, up to date gpu and some modern peripheral such as USB3.0. Vamrs, as the tier one design house of Rockchip, now have received the reference design of RK3566 and we can't wait to share with you some highlights of this amazing and promising SoC. We love it very much :-D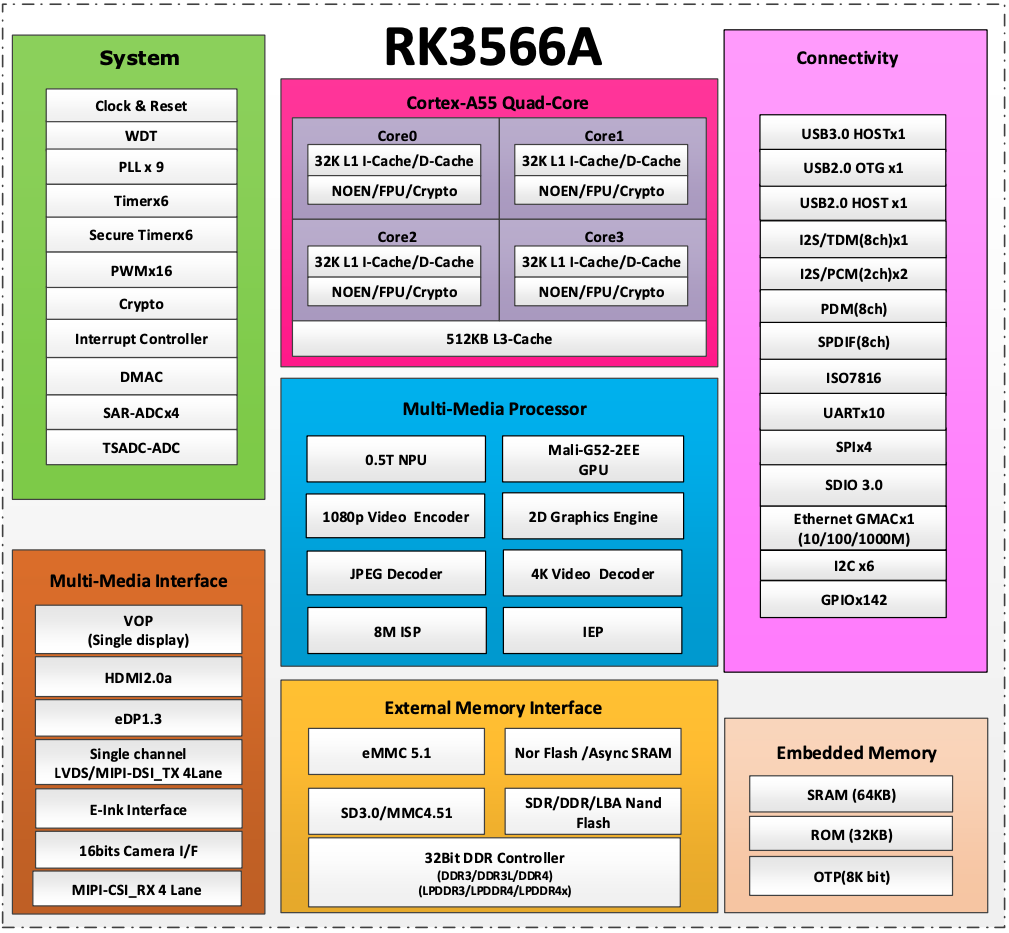 Multiple version of this SoC
As far as we know, there is multiple version/variant of RK3566 for different market, such as RK3566A for tablets, RK3566D for OTT box. There is also a verison called RK3568 with the same CPU/GPU IP but with higher speed peripherals such as PCIe 3.0. This will be revealed when the RK3566 is official announced, possiblly in the upcoming Rockchip Developer Conference in Nov.
Brief Specification
CPU
Quad-core ARM Cortex-A55, Neon and FPU, 22nm process, up to 2.0GHZ
GPU
G52 2EE,
OpenGL ES1.1 / 2.0 / 3.0 / 3.1 / 3.2, Vulkan 1.1, OpenCL 2.0
NNIP
1Tops
DDR
DDR4/DDR3L/LP4/LP4x/LP3
Media
Nor SFC, SPI Nand, eMMC 5.1, Nand
Video Decoder
4KP60 H.264/H.265/VP9 Profile0 2
Video Encoder
1080P60 H.264, H.265
ISP
8M ISP, HDR
MIPI_CSI
MIPI-CSI2, 1x4-lane/2x2-lane
CIF/DVP
IO:150MHz,Support BT.656/601/1120
Display
LVDS/MIPI DSI, HDMI 2.0, eDp, Eink
SDIO
SDIO 3.0 x3
Peripheral
USB 2.0 HOST, USB2.0 OTG
USB 3.0 HOST x1
PCIe 2.0 x1
SATA 3.0 x2*
UART: 10, SPI: 4, PWM: 16, I2C: 6 , SAR-ADC: 4
Ethernet
GMAC x1(10/100/1000M)
Audio Interface
8ch PDM
SPDIF OUT
OTP
OTP (Size 8K)
Crypto
(SM2/3/4), TEE, Trustzone
Note: SATA1 is muxed with USB3 HOST, SATA2 is muxed with PCIe 2.0 x1.
Highlights 1: High performance CPU & GPU
New ARM architecture and advanced process brings higher performance and power efficiency

Highlights 2: New generation(3rd Gen) Rockchip ISP
up to 8M@30fps processing power, suppporting time-sharing and multiplexing dual camera
Powerful HDR function makes the image clear under backlight or strong light conditions
Support dual channel simultaneous zooming output
Noise cancellation function, so that the image under low light conditions is also delicate
Support defogging function, can see clearly even in haze
Support lateral correction of LDCH to remove the distortion caused by the sensor lens
Hightlight 3: Powerful multimedia decode/encode capability
Support 4KP60 H.264/H.265/VP9 and other formats HD decoding
Support simultaneous decoding of multiple video sources
Support HDR10, excellent performance in color and dynamic range
Support image post-processing, deinterleaving, denoising, color enhancement, resolution increase
Support 1080p 60fps H.264 and H.265 format encoding
Support dynamic bit rate, frame rate, resolution adjustment
Hightlight 4: Integrated efficient RKNN AI processing unit
NPU with 1TOPs computing power
Embedded neural network hardware accelerator, support INT8, INT16, FP16 efficient operation
NPU hardware natively supports technologies such as pre-processing merging, channel quantization, and zero skipping
Support lossless compression of INT8, INT16, FP16 neural network parameters
The NPU core supports ordinary convolution, depth separable convolution, deconvolution, hole convolution, fully connected layer and pooling layer
NPU internal blocks include multiply-add operations, activation, LUT and precision conversion units, and support custom layer construction
Support one-click model conversion, support Caffe/TensorFlow/TF-Lite/ONNX/PyTorch/Keras/Darknet mainstream framework models
Conclusion
Althought RK3566 is target as a middle range SoC, but we think the performance is good enough for many applications, from multimedia human-machine interaction, to computer vision to robotics. It has very rich interfaces and many high speed peripherals. We also noticed, there is QSGMII words in the reference design though it's not implemented, which means in the future we may connect 5Gbps ethernet phy to RK3566. This is really exciting, we can wait to get our hands on this SoC and put it into various applications. If you have some ideas or you want to design your product based on RK3566, you can contact us.