April 24, 2019
Rockchip Developer Conference 2019 Spring
On April 23, the fourth "Spring Developer Event" of Rockchip was officially held in Fuzhou, China. The theme of this year's conference is "Smart Chip, Smart Futures", and many well-known companies and partners with global influence attended this event, attracting more than 1,000 developers and engineers.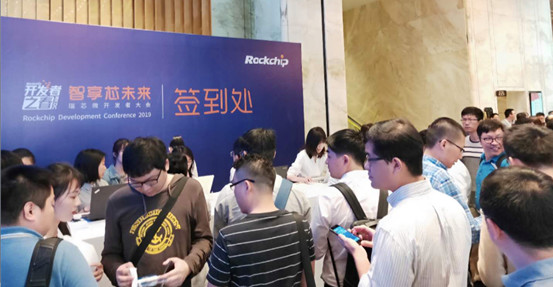 Rockchip 2019-2020 Roadmap Unvieled
From the scale of the event, the level and breadth of the guests, as well as the number of engineers, is enough to prove the true influence of Rockchip in the industry! And Rockchip did not let everyone down, this event can be said to be "the sharing of the bottom line", the future road map will be clearly exposed!
In the past, Rockchip has appeared in front of everyone with AP chip manufacturers. This time they first disclosed new services including power management, wireless connectivity, MCU, and semi-custom ASIC.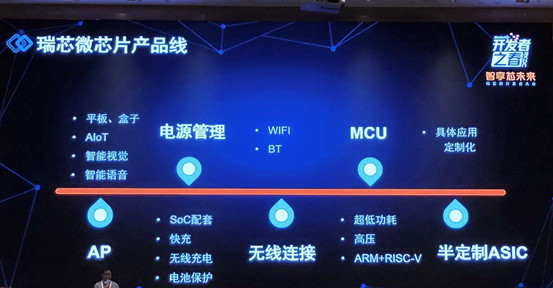 AP

Tablets, OTT Box
AIOT
Intelligent Video
Intelligent Audio

Power Management

SoC companion
Quick charge
Wireless charge
Battery protection

Wireless

MCU

Utral low power
High voltage
ARM + RISC-V

Semi custom ASIC

Customize for specified applications
Rockchip Products Matrix
Specifically, Rockchip's chip matrix overview includes: AI and vision processors, streaming media processors, application processors, audio processors, power management units, listed as following: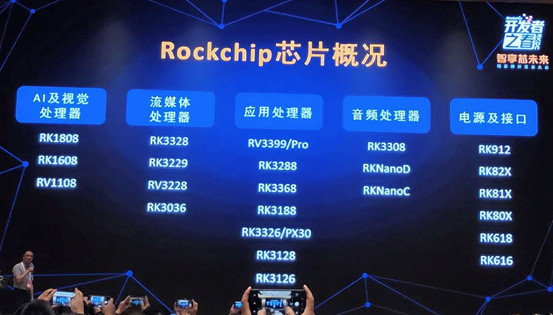 AI and vision processors
Streaming media processors

RK3328
RK3229
RK3228
RK3036

Application processors

RK3399/Pro
RK3288
RK3368
RK3188
RK3326/PX30
RK3128
RK3126

audio processors
Power Management

RK912
RK82x
RK81x
RK618
RK616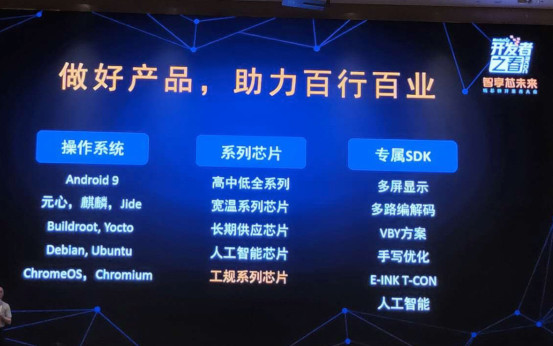 Rockchip Chips introduction
At present, Rockchip's artificial intelligence chip RK3399Pro and RK1808 have been deployed in AI artificial intelligence and visual, smart life, commercial equipment, streaming media applications, education and office.
New flagship SoC RK3588, made with 8nm
Rockchip announced several chips at the same time today, the most interesting of which is the information of RK3588, its core new generation flagship application processor.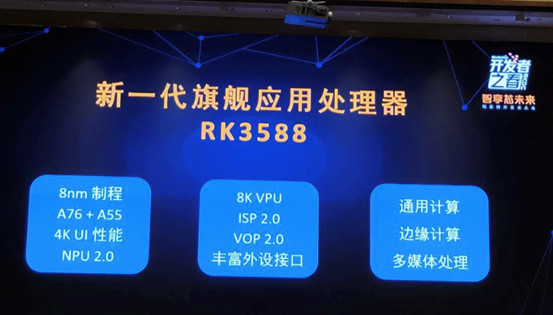 It is reported that this chip will adopt 8nm process technology, based on A76+A55 core combination, with 4K UI performance, 8K VPU, and NPU2.0. Mass production according to the planned 2020 Q1.
According to Rockchip, the 8nm process adopted by RK3588 will increase the performance of the previous generation by 20%~30%, while the power consumption will be reduced by 40%!
SoC

8nm processing
Quad A76 + quad A55
4K UI
NPU 2.0

Multimedia

8K VPU
ISP 2.0
VOP 2.0
Rich interfaces

Applications

General computing
Edge computing
Multimedia processing
Next gen audio chip RK2108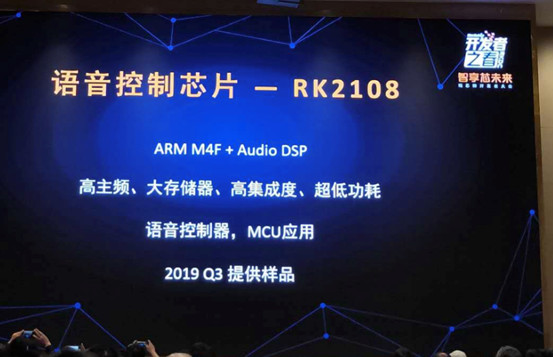 For the voice&audio field, Rockchip will also launch a control chip - RK2108. Samples are expected to be available in the third quarter of this year. It has the following features:
ARM M4F + Audio DSP
High freqence, large storage, high integration, ultra low power
For voice/audio apllications, MCU applications
Samples available in Q3 2019
Next gen OTT box chip RK3530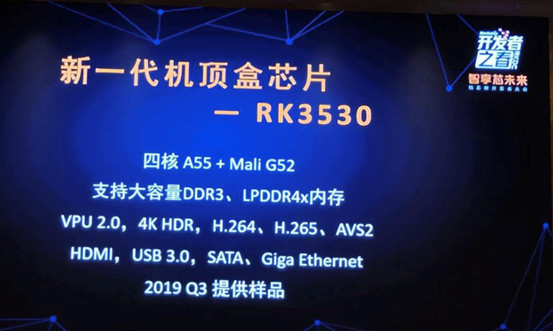 For the new generation of set-top boxes, the RK3530 chip will also be launched in the third quarter of this year with the following features:
Quad A55 CPU + Mali G52 GPU
Suppport large DDR3, LPDDR4/LPDDR4x
VPU 2.0, support 4K HDR, H264/265/AVS2
HDMI/USB 3.0/SATA/GbE
Samples available in Q3 2019
New gen vision processor RV1109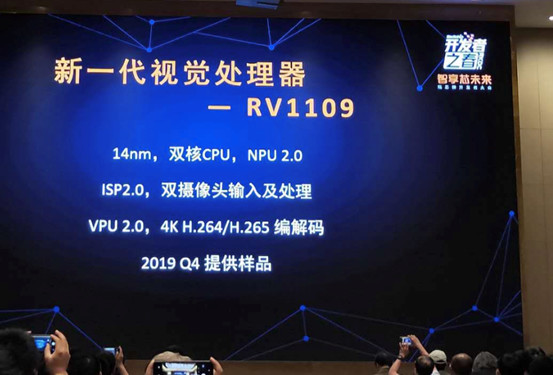 For the visual field, the new vision processor RV1109 chip was introduced. Samples are expected to be available in Q4 2019.
Dual core CPU, NPU 2.0, 14nm
ISP2.0, dual camera input and processing
VPU 2.0, 4K H264/265 encoding/decoding
Samples available in Q4 2019
PMU roadmap Unvieled
In fact, Rockchip has a very strong strength in the field of power chips. At present, the company's total shipment of PMU has reached 100 million. Among them, the fast charge control chip RK825 has exceeded 50 million, and the defect rate is less than 20ppm.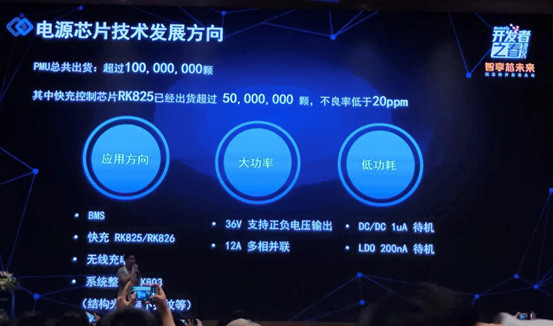 Applications

BMS
Quick charge(RK825/RK826)
Wireless charge

High power

36V positive or negative voltage output
12A Multiphase parallel

Lower power consuption

DC/DC 1uA standby
LDO 200nA standby
New wireless chip line with RK912
Compared with other big chip manufacturers, Rockchip is still lacking in the field of wireless chips. This time, they also announced the road map in the field of wireless chips.
According to the plan, they will gradually introduce WiFi chips and BT chips in stages: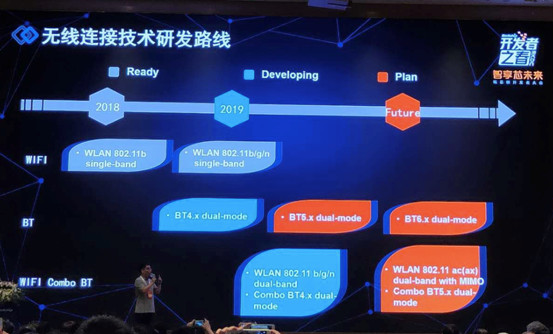 It is reported that Rockchip will first mass produce a WiFi chip - RK912 in the second quarter of this year. It will support WLAN 802.11 b/g/n.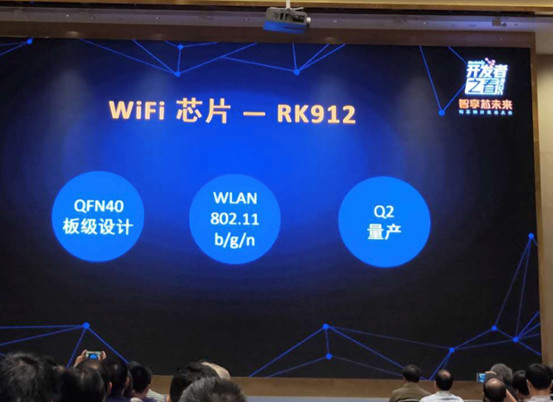 QFN 40
Board level design
WLAN802.11 b/g/n
MP in Q2
MCU roadmap beginning with RK2206
With the outbreak of the Internet of Things market, MCU has become a hot spot for everyone to follow. Rockchip has a large customer base and it is appropriate to provide them with suitable solutions.
However, according to their strategy, it is necessary to find the pain points and breakthroughs of the industry. Therefore, they focus on low power consumption and high voltage in the MCU field.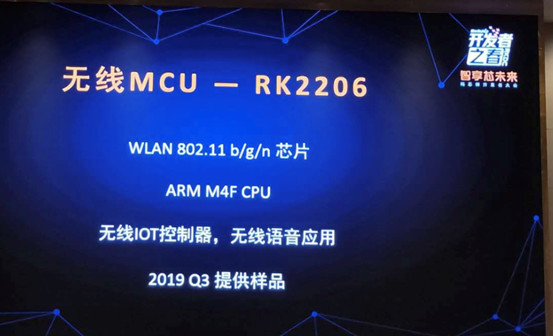 According to the plan, their first wireless MCU, the RK2206, will be sampling in the third quarter of this year.
ARM M4F CPU
Built-in 802.11b/g/n wlan
For wireless IOT and wireless voice/audio applications
Samples available in Q3 2019
Final words
At this meeting, Limin, Chairman and CEO of Rockchip also published his summary of Rockchip for the first time.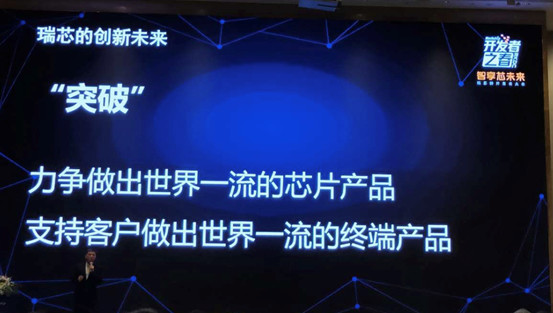 He said that the development logic of Rockchip is a sentence: "one center, two basic points."
A center refers to "customer-centric." The two basics refer to: technically continue to promote the field of "big audio", "big perception", "big video" and "big software"; the model insists on "market demand and business model". He said that Rockchip is not a research institution, and its R&D investment depends on the market and business model.
In terms of development goals, Limin said that he strives to be a world-class technological breakthrough and insist on high-end products. Strive to make world-class chip products and support customers to make world-class terminal products.