September 11, 2019
VMARC SoM Family
VMARC SoM is a series of SoM(System on Module) designed by Vamrs following the SMARC 2.0((Smart Mobility Architecture) standard. The SMARC standard is a versatile small form factor computer Module definition targeting applications that require low power, low costs, and high performance. VMARC SoM stand out with rich choice of computing power, graphics, camera, sound, network and optional wireless interfaces, offering embedded system developers a complete, off-the-shelf, upgradeable, credit-card sized embedded computing core that is ideal for IoT, multimedia, low-power graphics-intensive applications and AI enabled devices.
VMARC RK3399Pro SoM
VMARC RK3399Pro SoM ultilizes Rockchip's latest AI processor with superior general-purpose computing performance. It equips ARM big.LITTLE architecture, dual-core Cortex-A72 + quad-core Cortex-A53, with technical leadership in overall performance and power consumption; quad-core ARM high-end GPU Mali-T860, integrates multiple bandwidth compression technology, providing overall excellent performance. Its on-chip NPU (Neural Network Processor) offers up to 3.0TOPs computing power.
Component
Description
CPU
Dual-core Cortex-A72 up to 1.8GHz & Quad-core Cortex-A53 up to 1.4GHz
GPU
ARM® Mali-T860 MP4 Quad-core GPU
NPU
Support 8bit/16bit computing, AI computing power up to 3.0TOPs
VPU
Support 4K VP9 and 4K 10bits H265/H264 video decoding, up to 60fps
RAM
Optional configuration with the following options:
- 3GB LPDRR3(CPU 2GB + NPU 1GB)
- 6GB LPDDR3(CPU 4GB + NPU 2GB)
- 8GB LPDDR3(CPU 4GB + NPU 4GB)
Storage
Optional configuration with the following options: 16GB/32GB/64GB/128GB high speed eMMC
Ethernet
Built-in Gigabit Ethernet PHY chip, 10/100/1000Mbps adaptive
USB
USB 2.0 HOST x2, USB 3.0 OTG x1
Audio
RK809 Audio Codec, I2S 0/1, HDMI Audio, SPDIF
Display
Embed two Video Output Processor, support dual-screen simultaneous/extended display, and can choose to output from the following display interface:

- MIPI-DSI×1
- eDP×1
- DP×1
- HDMI × 1
Camera
MIPI CSI x2
Additional
- ADC x3
- GPIO x12
- SDIO x2
- SPI x2
- PWM x3
- UART x3
- I2C x5
Size
82mm x 50mm
Ficus2 Carrier Board
Ficus2 Carrier Board is an evaluation board for the VMARC SoM following 96boards Enterprise Edition Specicication. With Ficus2 Carrier Board, you can start prototyping your next AI enabled application immediately: connect a monitor via HDMI, keyboard, and mouse via USB, and you are good to go. The Ficus2 Kits include everything in the box to get started with VMARC SoM. It has the following feature: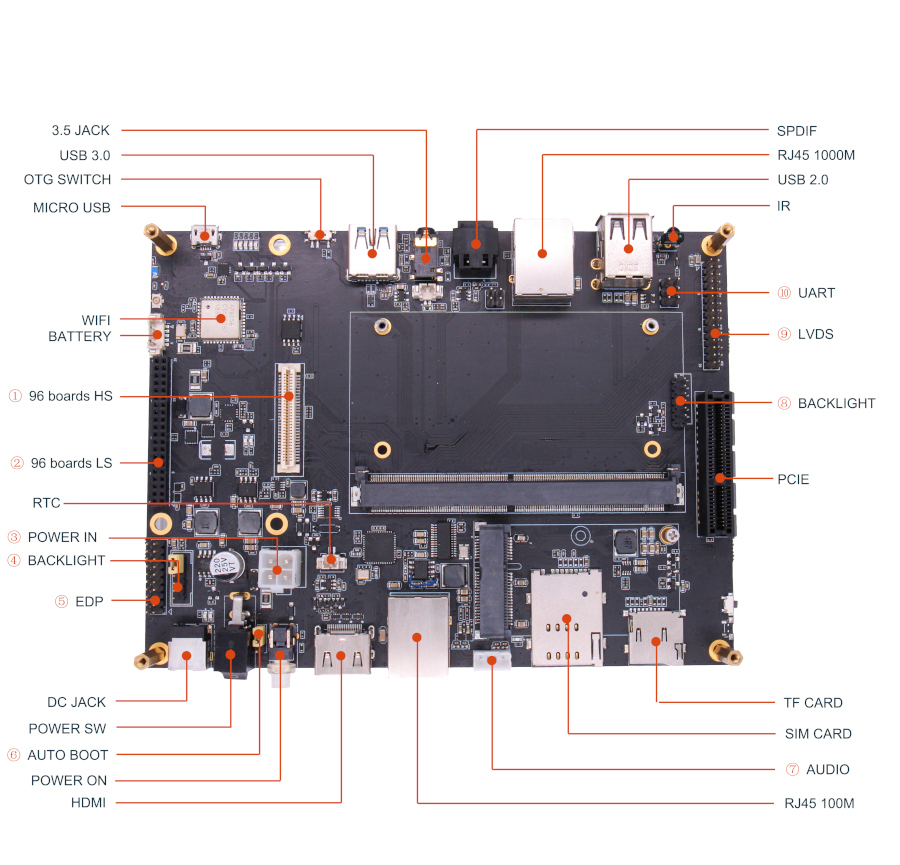 Component
Description
Power
- DC 12V/4A, with On/Off switch
- ATX 4P 12V Power in
Button
Sleep/Resume button with status led
Ethernet
- One GbE with PoE support(additional adapter required)
- One 10/100Mbit ethernet
Wireless
- 802.11 ac wifi, 2.4G&5G with on board antenna(optional uFL antenna)
- Bluetooth 5.0
- Optional Mini PCIe 4G module with SIM card slot
USB
- USB 3.0 OTG x1 with hardware switch
- USB 2.0 HOST x2
PCIe
- One 4 lanes PCIe 2.1 connetor
Display
- eDP x1
- 8 lanes LVDS x1
- backlight voltage select
- 4 lanes MIPI DSI x1
Audio
- 3.5mm headphone jack
- Speaker connector
Expansion
96boards standard 40P Low Speed connector
- UART x2
- SPI x1
- I2S x1
- I2C x 4
- GPIO x12
- PWM x1

96boards standard 60P High Speed connector
- MIPI CSI x2(4 lanes + 2 lanes)
- MIPI DSI x1(4 lanes)
- USB HOST x1
- I2C x2
Others
- User LEDs x4, WiFi LED, BT LED
- IR receiver
- RTC batery connector
- 7.4V Li-on battery connector
Debug
- on board TTL to USB serial debug
- jumper for NPU/CPU serial select
Size
120mm x 160mm
Software Support
Rockchip officially provides Fedora 17 and Android 8.1 dual boot image for RK3399Pro. A beta version of Debian Stretch is also available. In additional, to help developers access the NPU easily, Rockchip provides the following libraries and tools:
RKNN Toolkit: a python toolkit for AI
RKNN-Toolkit provides for users the development kit of model conversion, inference and performance evaluation based on PC, RK3399Pro, RK1808 hardware. Users can easily implement below features with the provided python interface:
Model conversion
Quantization function
Model inference
Performance evaluation
Memory evaluation
Model pre-compilation
Model segmentation
Custom OP
RKNN API: API to access the NPU
The RKNN API is an NPU(Neural Network Unit) acceleration interface based on Linux/Android. It provides a set of application programming interfaces (APIs) that based on NPU hardware acceleration, developers can use this API to develop AI related applications, the API will call the NPU hardware accelerator.
ROCK X SDK: The rapid AI application components
ROCK-X SDK is a set of components libraries for RK3399Pro/RK1808 platform. Developers can build rapid AI applications with ROCK-X SDK API. Currently the following features are provided:
| Classification | Functions |
| --- | --- |
| Object | Human detection, vehicle detection, object detection |
| Face | Face recognition, face critical features detection |
| Plate | Plate detection, Plate recognition |
| Pose | Body pose estimation, hand pose estimation |
VMARC RK3399Pro and Ficus2 Carrier Board is available at Vamrs Store.