November 25, 2019
2020 Roadmap update from Rockchip
2019 is coming to an end, and the plan for the coming year is already in place. We would like to share with you the next generation of RK35XX series SoCs, which will be launched by Rockchip in 2020: RK3588, RK3566 and RK3530, as well as its application scenarios, which covers industrial, AI, IoT, Audio and so on. Below is an updated roadmap from Rockchip officially: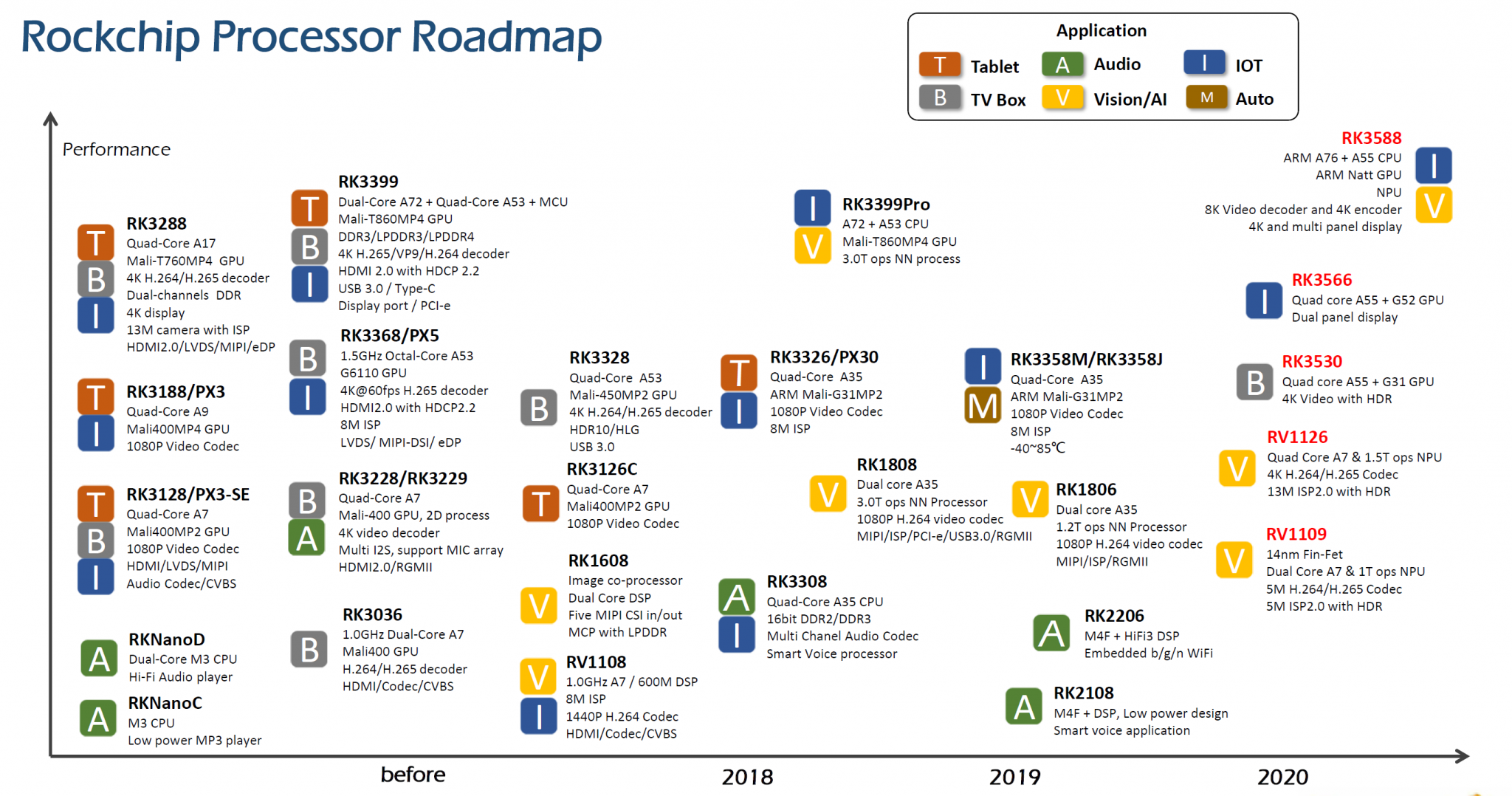 (Click to view large image)
RK3588
RK3588 is the new generation flagship SoC from Rockchip. It adopts the big.LITTLE design of A76+A55. The built-in dedicated NPU is mainly designed for AI applications. With support of 8K video decoding and 4K video encoding, while also supporting multiple 4K output, RK3588 is very attractive for high-end display applications. Considering the maturity of the coming 5G network environment, the transmission of high-definition video is supported by network conditions, the 8K video will be demanding growth from the market.
SoC

8nm processing
Quad A76 + quad A55
4K UI
NPU 2.0

Multimedia

8K VPU
ISP 2.0
VOP 2.0
Rich interfaces

Applications

General computing
Edge computing
Multimedia processing
RK3566
RK3566 is another mid-range SoC by Rockchip in 2020, targeting at IoT applications with quad A55 cores, G52 GPU and support dual display. We assume RK3566 is a upgrade version of the classic RK3288 with 64bits cpu, up to date gpu and some modern peripheral such as USB3.0. It's not clear if PCIe is available on RK3566. We are also told that RK3566 has a dedicated NPU with 1Top computing power, though not shown on the diagram above.
RK3530
RK3530 is the new TV Box chip in 2020. According to the previous features:
Quad A55 CPU + Mali G52 GPU
Suppport large DDR3, LPDDR4/LPDDR4x
VPU 2.0, support 4K HDR, H264/265/AVS2
HDMI/USB 3.0/SATA/GbE
We consider this chip as a upgrade version of RK3328, with some interesting features added such as SATA.
Commercial and Industrial Grade SoC
Rockchip also privdes commercial and industrial grade SoC, which supports 10years long term supply, listed as below:
Chips
Consumer Grade
0~80°C
Commercial Grade
-20~85°C
Auto Grade
-40~85°C
Industrial Grade
-40~85°C
RK3399 Series
RK3399
RK3399K
RK3288 Series
RK3288/W
RK3288K
RK3368 Series
RK3368
PX5
PX30 Series
PX30
PX30K
RK3358M
RK3358J
RK3308 Series
RK3308/G/B/H
RK3308GK/RK3308K
RV1108 Series
RV1108A/G
RV1108K1
RK1808 Series
RK1808
RK1808K
Note: RK3358M support AEC-Q100
Conclusion
In general, Rockchip 2020 is more focused in the field of Internet of Things and Artificial Intelligence. IoT devices have huge market potential. Rockchip has already launched a series of connected MCU with DSP for that. Under the pressure of IPO and sales, Rockchip needs to enhance the applicability of the products. Not much to say about Artificial Intelligence, Rockchip has always been a warrior and pioneer on this field. We hope Rockchip will explore more possiblities with their processors in 2020.